Hakko Ryu
---
Master Okuyama Ryuho (奥山龍峰) was born in 1901 and died in 1987. In addition to traditional Japanese medicine and oratorical science, he studied several Ju-Jutsu and weapon Ryuha (流派: schools/styles), especially Daito Ryu Aikijujutsu (大東流合気柔術) that he learned from Matsuda Toshimi, then directly under Takeda Sokaku (武田惣角) for a short period.

In 1941, he presented his own method, making a synthesis between the Japanese martial tradition and the needs of our time. He became thus the Shodai Soke (初代宗家: founder) of Hakko Ryu. "Hakko" (八光) can be translated by Eighth Light, and "Ryu" (流), by School, Style.

The meaning of this school's name is that true efficiency is invisible to the eyes as are the ultra-violet rays (eighth colour on the spectrum of light, invisible but very powerful).

Okuyama Soke died in 1987.


Hakko Denshin Ryu
---
In 1997, many practitioners, willing to preserve the spirit and teachings of Shodai Soke Okuyama, formed a new association called Kokodo Renmei (皇光道連盟) and founded a new school: the Hakko Denshin Ryu (八光伝心流) whose name can be translated as "Eighth Light Original Spirit School".

The founders of Kokodo Renmei (皇光道連盟) are (from left to right): Michael J. LaMonica, Antonio Garcia and Yasuhiro Irie (入江安博).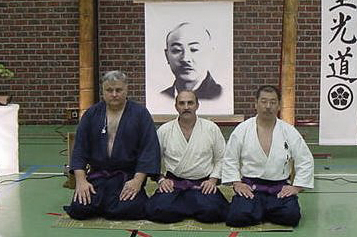 The direction of Hakko Denshin Ryu is represented by : Michael J. LaMonica, Soke for America, and Antonio Garcia, Soke for Europe.

As Hakko Ryu, Hakko Denshin Ryu is composed of three parts:
Ju Jutsu 柔術
A self-defence system without any violence. The main difference with most of the other ju-jutsu styles lies in the use of wrist locks and Gakun, 雅勲, pressure on kyusho (急処or急所, vital points situated along the meridians, called "kei" in japanese 経). The essence of Hakko Denshin Ryu is learning the appropriate and precise gesture, and adopting the right attitude.

After the Kyu grades (i.e. before the black belt), the progression of the practitioner is marked by five Dan grades. To each of these levels corresponds the study of a Kata (形 or 型: organised and coherent set of basic techniques) which must be sufficiently assimilated to allow the study of the next level. Once he has reached the 5th dan level, the practitioner, called "expert", will receive a more esoteric teaching that will bring him till the mastership titles: Okuden Shihan(奥伝師範) and Kaiden Shihan(皆伝師範). His belt will be a purple one. This corresponds in many other martial arts to the red and white belt. The highest level of this esoteric teaching is called San Dai Kichu (三大基柱), which can be translated as "the three big pillars".
Shiatsu 指圧
Shi (指) means "finger" and atsu (圧), "pressure". Shiatsu is a technique aiming at maintaining or recovering the energetical balance our body needs to be healthy.
Goshin Taiso 護身体操
Goshin (護身) signifie "protection, défense" et taiso (体操) "gymnastique". Le Goshin Taiso est une gymnastique visant également à maintenir l'équilibre des forces qui nous animent. Il se pratique seul et permet aussi à chacun de poser un bilan énergétique. Goshin (護身) means "protection" or "defence" and taiso (体操) "gymnastic". Goshin Taiso is a gymnastic used to maintain the equilibrium of the forces present in our body. It is practised alone and allows any individual to make his own energetical evaluation.
Web site of Hakko Denshin Ryu :
www.hakkodenshinryu.com